The strikingly beautiful new facade of the front of our buildings, tied in with our new Bird Werner external fire stairs, gave opportunity during Week One, to offer a
Blessing and Dedication Service for our new building improvements.
The Rev. Bill Brockman presided at the ceremony with opening comments from Rev. David Matthews, Board V.P. The service was conducted from the newly renovated  BW porch with the audience gathered on Roberts Street during the Tuesday social. Those gathered included ECOC guests, managers, staff, board members, Cook and Shaw family members and passers-by who were learning about the ECOC for the first time.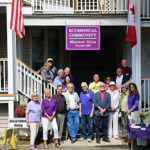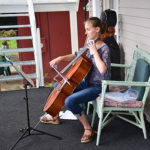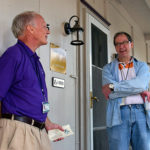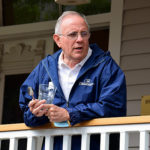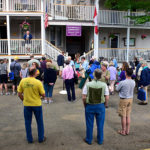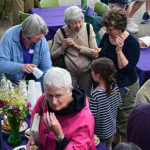 Prior to the Ceremony the audience was reminded that the Shaw and B/W buildings were originally a gift from Edward Westervelt in 1928. Then, The Ministers Union,
was to provide low cost housing for ministers and religious workers. In 2003 we
became the Ecumenical Community of Chautauqua providing low cost inter-faith
housing and fellowship for all.
Some recent history, over the last decade, was shared.
Through the incredible generosity, primarily of our guests, we have raised nearly one
million dollars during three Capital Campaigns.